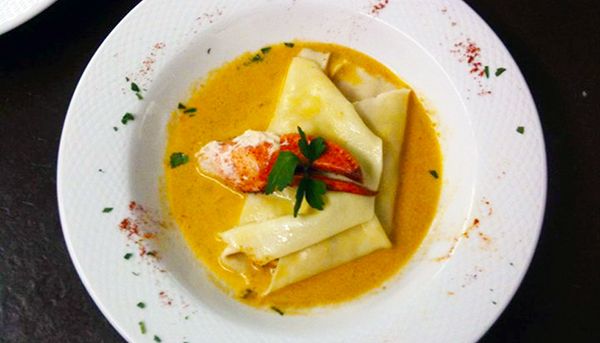 We went looking for dinner on a crazy busy night - the Saturday of Labor Day weekend. We'd read good reviews of the Venetian Hot Plate and decided to give it a shot even though we didn't have a reservation, and we managed to get a couple of spots at the bar, which we're always open for - and everything was lovely. Even as busy as the restaurant was, the service was upbeat, friendly and felt like family. Our server, Hope, was wonderful - attentive, happy to advise on menu and wine list, solicitous and warm. The bartender was busy but amazingly happy-go-lucky - I don't think I ever saw her without a smile on her face! And the host/manager had the whole place running like a well-oiled machine.
The food was also amazing. Our salads were fresh and crisp, without a wimpy leaf - every bite was delicious, and the tomato basil salad dressing was so good I wanted to lick it. For our entrees, my husband had a snapper special with crab meat and devoured every bite. I had the spaghetti pescatora, and it was sublime - velvety sauce, tons of seafood and perfect pasta. I ate as much as I could, and still took home a full plate of pasta laden with clams for lunch the next day. We finished with the creme brulee, and I'd say it's one of the best I've ever eaten - not heavy and thick like some - light and delicious, with vanilla flecks in abundance.
Considering that we were hopeful diners on one of the busiest nights of the year, we found Hope (the waitress and the hope that we'd find a great meal) sprang eternal!
------
I love, love, love the Venetian Hot Plate! This first time we went there, we were on the Island for a wedding and had no plans that night as it was rehearsal dinner night. We passed it a couple of times, and commented on the name. Then, we decided...what the heck? Why not give it a whirl? I am so glad we did!! This place is homey and warm on the inside....not like a typical beach restaurant at all. The food is delicious and has made us switch from Mama Mia's in Corpus (we are there yearly). We ALWAYS make time for Venetian Hot Plate...and we tell everyone we know who ventures to this area to check it out. The service is always extremely friendly and we never feel rushed. I cherish that in a dining experience. We are big foodies from the Austin area...and dine out often. Venetian Hot Plat is not to be missed when in Port A or Corpus Christi! YUM!
------
This place came highly recommended and it was the best on the island for sure!
The New Zealand Rack of Lamb was to die for and the service was extra helpful and friendly. Make reservations ASAP! It's worth it. TIP: closed Sundays and Mondays.
------
Although my dad and I only make it out to Port A once a year or so, we ALWAYS go to the Venetian Hot Plate. With an authentic & delicious menu (the owners are actually from Italy, and are wonderful people), and outstanding customer service, we've never had a bad experience. It's a little pricey, but worth every penny.
Make sure you call ahead for a reservation!
------
My O My... Make a reservation so you can get in. We have had a couple of good meals in Port A, but none of them compared to what we encountered at Venetian Hot Plate.
Let's start with the personnel who work here. Our server Paul, was beyond excellent. He shared with us that he actually had started as a Sous Chef and eventually ended up front of the house. He knew the menu like the back of his hand, since he had at some point made the dish we were going to eat. He steered me away from the Crab Cakes and to the Pork Chop Special. As he said, we always have the Crab Cakes, but we won't be having this much longer. We ordered Calamari, Salad and Suzie had the Bolognese. Along with the attentive, friendly, engaging and efficient service from Paul, there was a another young server assistant. She made sure we had pepper, would clear our plates, provide water or anything else we needed. She was a great compliment to him. Great team work throughout the night. The place was hoping, he had a large top of 10 and several other tables which were turning quickly and he always made it back to us at the right time. Ask for Paul if you go.
Appetizer was the grilled calamari with a roasted garlic pepper sauce. It was served on endive lettuce. This was fantastic start to our meal. The roasted garlic added a velvety smoothness to the dish and the calamari was tender and perfectly seasoned. The endive gave a nice bitterness to the dish and brought it all together.
Insalate choice was the grilled romaine plate, split at tableside by Paul. This plate is definitely worth sharing. The romaine came with a nice grill on it and was topped with paramesan and crispy procuitto. Very tasty and quite a different take on a traditional salad offerings. They had previously came out with a bread plate with an olive oil and balsamic dipping sauce sprinkled with red pepper flakes, which went well with our salad choice.
Entrees.. then the pork chop arrived. A large chop, siting atop a mushroom risotto with a side of wilted spinach. On top of the chop were three gooey slices of brie which had just begun to melt over the chop itself. The meal was perfectly balanced with the wonderfully cooked main, accompanied by the spinach nicely sauteed. The risotto was served a little over a dente and I think the only thing they could of improved on was to use wild mushrooms to really get the earthiness out of the mushrooms. This was a stunner of a plate. Suzies's bolognese was good, not the best she has ever had, but certainly worth the price point paid. She opted for the al forno style, which meant she got more cheese placed on top and then baked before coming to the table. She was a little saddened that she didn't opt for one of the specials, but I keep her cooing by providing her little bites of pork and risotto from time to time.
We both got an carafe of wine, don't see that much in places anymore. A Pinot G for me and a nice red for her. We enjoyed the surroundings as the restaurant filled to capacity very quickly. We choose to pass on the desert, we were totally stuffed, and head up to the bar to have another glass or 4 of wine. It was there that we met the owner, Linda. A husky voiced Italian from outside of Venice if I recall. She was the nice lady who called me to confirm my reservations. While we were at the little bar, there were a constant stream of visitors coming in, only to be turned away since they were booked solid. Make a reservation or you will not be eating here. Our bartender was very pleasant and keep the conversation lively, while we enjoyed our wine and new guests as they came in.
This is hands down the best Port A has to offer for our trip. If we venture back to Port A, we will not miss another meal here.
------
I rarely give 5 stars but i had no reason to give this lovely dining experience any less. The veal with artichoke, mushroom and Sun dried tomatoes was nothing short of devine. In addition, for once, a restaurant knows how to season and cook roasted potatoes. Bravo! The salads were fresh and we also ordered the crab cakes which were good. The creme brulè was yummy.
I really enjoyed the classy ambience with a home town feel. The owner was very hands on and for a former server and bartender I felt the"family" in this restaurant.
I highly recommend this as a enchanting night out.
------
I never rave about restaurants but I find myself doing that about this place when people ask me what my favorite restaurants are… My brother and his wife recommended it to me and when I took a trip to the beach recently I tried it out. We didn't have a reservation (you need one!) but lucked into a table from a canceled reservation and the evening was amazing. The service was fantastic and every dish was better than the last. If you are in the Port A area and want a very good meal, make a reservation. – Wil S.
------
The staff was extremely courteous and very positive (but not in a hokey way). They made great recommendations and the food was fantastic. We started with the muscles, clams, shrimp, and scallops in a wine butter sauce that was yummy enough to sop up with the warm bread they brought. The grilled romaine salad was great and big enough to split. The red snapper and flounder were two of the features and both were perfectly done. The veggies were nice. We were here on a date night while our nanny and the grandmothers put the kids down for bed. It was a very pleasant surprise. I would definitely eat here again. Marco M.
------
Had no idea this was such a hot spot – we were lucky to grab a table in the bar area since we showed up at prime time without a reservation on a Sunday during the Spring Break season! Not that this is a college student type place – it is good for families with non-rowdy kids, couples, and anyone who can conduct themselves with decorum and afford the meal!
------
Since we got to Port Aransas yesterday, my dad and I have been trying to fill our bellies up with as much fish and seafood as possible. The food around the area has been ok at best…
…and then came yelp and Venetian Hot Plate. I was pleased to yelp this place on on the way into shore on a bay fishing boat trip this afternoon.
The outside is definitely deceiving. It resembles an old diner from the outside but is cozy and warm on the inside. I'm not very big on decor but for this "hot plate," dont judge a book by its cover.
For antipasti, we went with the misto mare. Delicioso! Clams, scallops, shrimp in a white wine garlic sauce oh my! The seafood was fresh and cooked just right and the limitless bread was heavenly dipped in the wine sauce. The salt and yeast was a perfect pairing with my pre-entree beer. It came with a healthy serving of seafood as well.
For the main course, keeping with our fish theme for the weekend, I got the daily special of grilled grouper in garlic and chile sauce with crab fingers and shrimp. This was paired with broccolini and saffron risotto. All quite tasty. The grouper was cooked just right with just enough grill taste to compliment the delicious sauce. The risotto was delightful and the broccolini was the perfect veggie to go along with the fish. Everything tasted fresh and was cooked and paired to perfection. This is a meal I expect from a chic uptown grill in Seattle or NYC, not a local dive just down the road from our inn.
We were quite stuffed after our meal and had no room left for dessert.
The service was spot on. Being one of the first parties to arrive for dinner tonight, we were greeted by all personnel who worked and served in the main room and bar. Service was quick and very personal. The guys here definitely know how to treat their patrons right. I never once had the feeling that I was just another tourist who was visiting from a couple thousand miles away (which I was) but instead had the "wait have I been here before" feel throughout the meal.
Overall highly recommend checking out this place if you find yourself in the Port Aransas area. Now I need to find a place like this close to home. Will L.
We had the polenta appetizer – delish! Grilled polenta, perfectly flavored sauce, great with the goat cheese.
I had the New Yorker salad as an entree. I know, not designed for that, but it was amazing. I'd had a heavy lunch, so a nice light dinner was just what I needed. I do not hesitate to say it was the best salad of my life – everything blended together just perfectly.
Hubs had Spaghetti alla pescatora ("A classic coastal Italian pasta which contains a variety of shellfish tossed with spaghetti in a white wine herb sauce witha hint of garlic and crushed red pepper.") which he loved.
We finished with one of the best Creme Brulee ever. Some complained, but it was fantastic – perfect consistency, not too sweet. AMAZING.
All of this with a carafe of nothing-special house wine made for a surprisingly fantastic "fancy" dinner in Port A. Will be back over and over and over… Beth B.
------
Was looking forward to a surprise dinner location on our first night in Port Aransas. This place did not let down! Outside was not much to look at and the decor inside is dated but this is an overall theme to the entire island and not without its own charm.
The service was a bit slow but knowledgeable and not overbearing. Laura B.
The wine selection was great and the food was divine.
Truly inspired slice of Italy on the Texas coast.
Casar Salad was beautifully presented and tasted spot on.
Veal Saltimbucco and Pasta Special both surprised and awed.
For dessert we opted for creme brulee, which sadly was the only let down as it was more like soup than custard. The taste was wonderful but not the consistency. This place is pricey but for me it did not disappoint. I am looking forward to going back next time we are in Port A.
------
"Tender flounder to perfection, cream sauce over risotto still on my mind!"
www.tripadvisor.com
"I knew reservations are a must here, so I went early to see if I could get a table. The staff was incredible in working me in. Service and atmosphere were welcoming and friendly and above all professional in the most easy going way. Then the food…truly declicious. Linda runs this ship with a most careful eye, but gives her staff room to shine. I always feel confident to recommend the Venetian, knowing it delivers. Wine and port, devine. The atmosphere is cozy and the music grand. Really cool place."
------
"All in all, a wonderful meal explored. We can't wait to return"
www.gulfcoastlines.com
"My first trip to the Venetian Hot Plate in proved to be, hopefully, the first of many. Living up to it's hype and reputation as "the" fine dining experience of Port Aransas would be no easy feat – I'm pretty partial to Shells and Lisabellas.
We made reservations for 6:00pm on a Tuesday night; actually the same day. I'm told that it's generally harder to get reservations so we considered ourselves lucky. We were seated at a corner table and brought water and ciabatta bread and seasoned dipping oil. Fresh and flavorful, it set the tone for the balance of the night.
Despite the very cold temperatures outside, the one-room restaurant was cozy – neither too hot nor too cold. Only about five of the seventeen tables was filled and we were very well cared for during the evening. In fact, I would say the service was the best I have experienced in Port Aransas.
The Venetian Hot Plate offers a very extensive wine list including my favorite Tawny Port with 2 varieties, no less! Most restaurants only carry Ruby Port, so this was a great treat. We opted for non-alcoholic selections on this evening (but we will be back!) and waited just a few minutes for our appetizer. We chose the Calamari which was perfectly seasoned and prepared. I prefer crispy or fried calamari so while I wouldn't order it again, that was most definitely a preference on my part and not a flaw with the preparation or seasoning of the dish we received.
Our salads were next. My husband chose the house salad and raved about the homemade, fresh balsamic vinaigrette over fresh greens. I chose the Caesar Salad and was delighted to be offered a pure version with anchovies, which I declined this time, but even without the salty addition, the balance of dressing to just-picked fresh romaine hearts and parmesan cheese was sublime.
I opted for the Veal Picatta and like my salad was perfectly prepared and like no other I've had. The lemons and capers were standard, but the addition of fresh tomatoes added a layer of flavor and texture. The veal was fork-tender and delicious.
At our server Jamie's suggestion, my hub chose the Penne Bolognese and despite the simple preparation he was blown away. Fresh herbs, tomatoes and a touch of cream blended for a rare treat and it was easy to see why there are so many devotees to the Venetian Hot Plate.
Our final selection of the evening was the apricot cheesecake. Again, this wasn't some pre-packaged or frozen feature. It was creamy, sweet but not sickeningly so, with soft apricot chunks. The crust was a perfect New York graham cracker crust and it capped the evening famously.
All in all, a wonderful meal explored. We can't wait to return."
------
www.yelp.com
"Definitely give this place a try. You won't regret it."
"We went to Venetian Hot Plate this past weekend when we were in Port A and had a very nice dinner there. The wine is pretty pricey, and I think that's the only complaint I have.
Everything that we ordered was good, but the items that were ordered off the "Specials" menu were certainly the best. My husband ordered a white fish (I can't remember which), that had a white crab sauce on top and came with mashed potatoes and spinach. It was sooo good!! My husband's sister also ordered another kind of white fish that came with spinach and fried polenta. Also very tasty. The rest of us ordered other various items like veal and pastas, and they were excellent, but the fish items FAR outweighed the others. I knew I should have gone with my gut instinct and ordered fish while at a restaurant on the coast, but I don't always go with my gut. Oh well. Next time.
Since the whole table was stuffed, we decided to order dessert "to go." We took with us the tiramisu and the chocolate hazelnut mousse. Both delectable.
Definitely give this place a try. You won't regret it."
------
"Excellent Dining Experience"
www.tripadvisor.com
NeaLinda
Corpus Christi, Texas
"What a great gem.
The menu of fresh fish, beef, and pasta was superb. The wine list was also outstanding for such a small ristorante.The food was delicious, and it was well presented and innovative (potatoes cut to look like big mushrooms, for instance).The service was impeccable."
------
"Truly fine dining"
www.tripadvisor.com
Docmarx, Texas
"The Venetian Hot Plate looks like everyplace else in Port Aransas — like a weathered beach shack. But inside, the interior has been transformed into a comfortable and elegant Italian restaurant.
Prices are high at the Venetian Hot Plate, but the food is uniformly excellent. I got shrimp in a butter sauce and my dining companion got tortellini in a gorgonzola sauce. Portions were generous (she had enough to take home for lunch the next day), and everything was sooo good. The meals come with salad. The dessert we tried (cinnamon chocolate creme brulee) was out of this world!
The service was reserved but friendly and efficient. While you can dress casually at the Venetian Hot Plate, the restaurant is truly fine dining best suited to adults. It's expensive, but we loved our meal and would definitely come again the next time we are in Port Aransas."
------
"Wonderful food, nice atmosphere, good service"
www.tripadvisor.com
Gari-AnnTX
DFW area
"We try to make it down to Port A every year (sometimes in the summer, sometimes in the winter). We always save one evening for dinner at the Venetian Hot Plate. We've never been disappointed. The food is delish, great wines, and the desserts are to die for (be sure to try to creme brulee)! Being a vegetarian makes it difficult to find a really nice meal (other than a salad or baked potato) in a fishing town, but Venetian Hot Plate always has something wonderful and meat-free on their menu. We highly recommend!"
------
"Best restaurant in Port Aransas by far!!!"
www.tripadvisor.com
kgcrouch
Houston, Texas
------
"We spend a lot of time in Port Aransas because we have a condo there. We have eaten at the Venetian Hot Plate numerous times and we love it. We have eaten every place in Port Aransas many times over the years and the VHP wins as the best restaurant in Port A hands down. The owner, Linda, is Italian from the Venice area. She is just a fantastic restauranteur. They are open for both lunch and dinner. The lunch menu is more limited than the dinner menu and is completely different, focusing on panini's and salads, with a few pastas and fish dishes available. There is a daily special board with about six or seven specials listed each day. At dinner, the menu is more extensive and there are even more specials on the board. If you are in the mood for seafood, the fish dishes at the VHP will thrill you — fresh catches posted daily prepared in various types of special ways. There are also steaks and veal chops as well as a great assortment of pasta dishes. When you plan to visit Port A, call Linda well in advance for a reservation. You don't need a reservation for lunch, but at dinner on the weekends you need a reservation for sure and it would be best to call by Thursday for a Friday or Saturday night dinner. Enjoy! This is probably the best restaurant in all of South Texas. The restaurant is located on the corner of Beach and Station Streets, near the beach. It's an orange building with an awning. Dress is smart casual."
------
www.yelp.com
"I was told by my friend before visiting Port A to set my sites on food about here, knee level, and expect here, waist level. Then I couldn't be too disappointed in the food there. Oh, and expect everything fried.
Our experience at the Hot Plate was more like, here (neck level.) The service was outstanding. We came in around 9:30, about 30 minutes before closing and were never rushed. Our server waited until we were obviously through with each course to remove our plates and then bring out the next course. I don't think there were any fried seafood selections on the menu and all of the seafood was a fresh as it could be on the island. We shared everything starting with their appertizer of white wine braised mussels, clams, scallops, and shrimp. It was delicious and the broth was great for dipping our bread into. After the starter we shared their special salad, a grilled romaine heart topped with a basalmic reduction, crisp pancetta, and shaved parmesan. We finished with their Tuna steak special. A perfectly grilled to rare-med rare tuna steak over saffron risotto, with haricot verts sauteed with tomato and pancetta, and some white whine and red onion sauteed shrimp. Damn it was goood. Best seafood on the island. As good as anything you could find in the city. And an impressive Bottle Only list. Will definately return."
------
www.yelp.com
"The Venetian Hot Plate is something of rare elegance. It is a 5-star restaurant with 5-star service and 5-star food in a town that definitely isn't all that "5-star."
I visited this amazing place this past Saturday night for my girlfriend and her sister's birthday. By pure dumb luck, we picked this restaurant out of the "Port Aransas Vacation Guide," and figured we better call to make reservations. They were all booked up–but managed to fit us in at 9:15–and thank God they did! I wasn't expecting much, especially after driving around town and seeing some of the local restaurants. Not that they all look bad–it's just that they don't look like they would have any chance of living up to the quality of a major city like Houston, Dallas, Austin or San Antonio. But, wow, was I wrong!
This place has the best service of ANY restaurant I have EVER eaten at. It was phenomenal. The hostess was pleasant and responsive. The waitress was amazing. The buss boys were on top of everything. It's so rare to have really perfect service these days, that when it happens–you remember. Not once did anyone in our party ever have the slightest complaint about any of the service all night. Truly amazing.
Now for the food–some of the best food I've ever had. Easily on par with any of the 5-star restaurants of Houston, Dallas, Austin or San Antonio. The Calamari appetizer was fresh, tasteful and delicious. The wine selection was great. The entrees were heavenly–every one of them. We all took our first bites took a look around and everyone had the same reaction: "This is SO good!" And, of course as you might expect, the dessert was amazing. It truly is hard to find anything wrong with the meals and experience we had.
Now, the decor might not be *quite* as nice as some other restaurants in the larger cities–but for Port Aransas, it was definitely a nice surprise. Very quaint, cozy, romantic and clean. Everything you're looking for in a nice, relaxing dinner.
So next time you're in Port A and looking for quality beyond what's expected–I highly, highly advise you try the Venetian Hot Plate. You'll thank me later."
------
Venetian Hot Plate given Editor's Choice award
Texas Co-op Power magazine – September, 2005
Kaye Northcott, Editor
"As one would expect, fresh seafood is one of the restaurant's specialties, but it also offers astonishingly good specials made with veal and lamb. Even the simplest salads and side dishes are worth the drive. The Hot Plate, named fro the sizzling cast iron plates on which some dishes are served, has the perfect Caesar salad, a great polenta, and heavenly spinach in lemon juice, olive oil and garlic."
------
Review on Tripadvisor.com
"This is a NICE place. It's a great alternative to typical beach burger and shrimp shacks. As someone traveling alone, I received straightforward recommendations and aweseome service which was much needed by the time I arrived here. If you are looking for very good service, desire a clean, contempory atmosphere or just craving some Italian food and wine, try this place. They do take reservations, which may be necessary depending on the day/crowds. Truly a bright spot during my stay."
------
Cheryl, from San Antonio, TX posted on mytravelguide.com
"Among the best food wise. It certainly can hold its own! Moderately expensive, but well worth it."
------
Submitted by David Gallagher at Restaurants.com
"My family discovered the Venetian Hotplate on a vacation a few years ago and it has now become a tradition. A vacation to Port Aransas wouldn't be complete with a dining experience at the Venetian."
------
Review on Tripadvisor.com
"The Venetian Hot Plate Restaurant in Port Aransas, TX is the very best Italian food in this part of the United States. It is authentic as opposed to all the other Italian restaurants in the area. There is no contest and it truly deserves 5 Stars."
------
Corpus Christa Caller Times
"Venetian Hot Plate serves fare to remember"